1956
Born in Vienna/Austria under the sign of Taurus
1970-1972
Famous Photographers School, Westport, Connecticut / U.S.A.
1974
Graduation
1977-78
Numerous works published by literary magazine FRISCHFLEISCH/Vienna
1978
Lectureship for Fine Arts and German Language
1999
Marriage at Pienza/Tuscany, Italy
2002
Move to Paltmuehl/Lower Austria
2008
Move to Grundlsee/Styria
2008 – 2018
Editor of www.bildstoerung.eu / website for art photography
2010
Move to Lower Saxony/Germany
2016
Move to Carinthia, back home to Austria
THE WIEN MUSEUM hosted the Suedbahnhof-Photos ("We Wanted Workers …") from 1973 into their archives
2017
In Interview with www.1x.com from Uppsala/Sweden:
https://1x.com/blog/permalink/8187
THE WIEN MUSEUM shows as a part of the encompassing exhibition Moving History some of the Suedbahnhof-Photos from Oct 5th 2017 to February 11th 2018
2018
Completely new design by facelifting, reorganisation and remastering of my homepage www.robert-komarek.at
Lots of brand new stories and features to explore.
2019
Numerous shootings in Carinthia and Vienna with models from Czech Republic, Switzerland, Russia and Austria.
2020
Because of COVID19 restrictions I had to suspend all planned shootings except one already in January.
On June 29th for the first time I reached the 1st place on 500px.com with STILL TALKING in category NUDES; 2nd place on August 16th with CHILD OF GOLD on 500px.com as well.
2021
PURE reached the 1st place on 500px.com in category NUDES on January 4th.
COUTURE reached the 2nd place on 500px.com in category NUDES on June 14th.
AFTER TALKING as well reached the 2nd place on 500px.com in category NUDES on December 26th.
500px.com has 13 million registered members in 190 countries.
2022
In February 2022, the Swedish photography platform 1x.com awarded me the designation "Awarded Photographer". Thank you very much!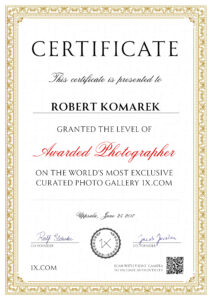 Exhibitions:
Vienna – Linz – Krems/D. – Kassel – Osnabrueck